Introduction:
San Antonio, Texas is the seventh largest city in the United States, with a population of just over 1.7 million, according to the most recent census data available. When it comes to wealth San Antonio is 126 out of 280 metropolitan areas measured, with a median per capita income of $17,487. This compares unfavorably with the national average, which is $39,626.
San Antonio's climate is considered humid subtropical. The area experiences hot summers, mild winters that rarely get below 40 degrees Fahrenheit, rainy springs and autumns that range from mild to hot. Snow is rare in San Antonio, with snowfall occurring approximately once every four years on average.
San Antonio's nicknames are S.A., SA and SA Town. While the first two options are pronounced like the letters, the latter is pronounced "Say Town." San Antonio is also known as Alamo City and Mission City, because of its storied past.
History: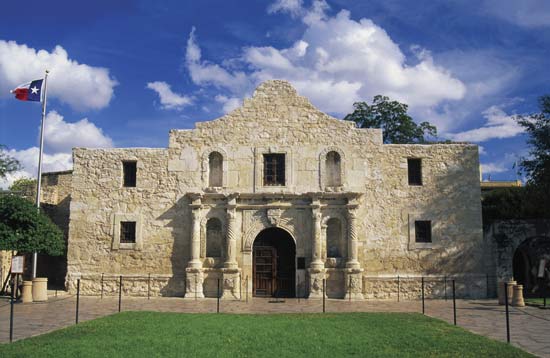 San Antonio has one of the richest histories of any city in the United States. It started as a village founded by the Native American tribe the Coahuiltecans. In 1691, Spanish settlers discovered the village and renamed it and the river that runs through it San Antonio in honor of Saint Anthony of Padua, the saint whose feast day it was on the day of discovery.
Colonization of the area became complete in 1718 when Franciscan monks built a mission there in an attempt to convert the natives to Christianity, educate them and develop a more formalized local economy. This mission was also named after Saint Anthony but would later come to be known as the Alamo.
San Antonio was originally colonized by immigrants from the Canary Islands of Spain and later became a part of Mexico when Mexico declared independence from Spain. This caused conflict with Texans who wanted their own independence, leading to the war known as the Texas Revolution. At the Battle of the Alamo 100 Texians holed up in the mission for 13 days, holding off Mexican forces temporarily in an ill-fated attempt that eventually led to their defeat and retreat. The Battle of the Alamo was one of the most storied events in American history.
Living in San Antonio: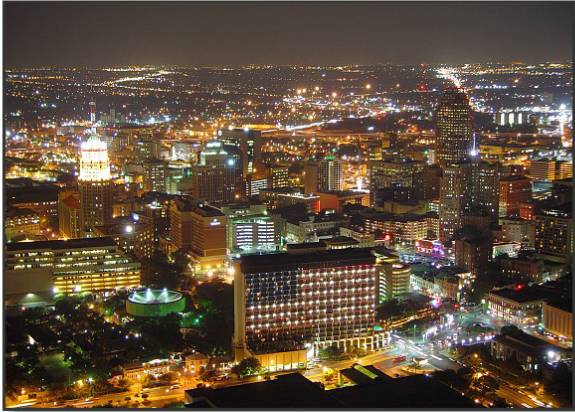 San Antonio is beloved by its residents for its mild climate, rich history, cultural opportunities and reasonable cost of living. Diverse influences on the city's development have made it one of the most visually interesting cities in the United States, with a distinct architecture. There are many buildings in the city which are on the historic register.
San Antonio has a definite Latino flavor, with a large number of the residents having Mexican heritage. More than 61% of the residents define themselves as Hispanic, with 28.5% identifying themselves as Caucasian/non-Hispanic, and 6.4% who describe themselves as African American/non-Hispanic. The remainder of residents self-define as Asian, mixed-race, or other.
People who live within Loop 410 are considered to be living downtown in San Antonio, while regions outside of the loop are considered suburbs. Living within the loop provides a busy urban lifestyle and an easy commute to most jobs.
Suburban development is most prevalent north of the city right now. New houses are being built in bucolic surroundings in hill country. However, roads in this area are not yet up to par with population growth, meaning a commute to downtown can be time-consuming.
The military presence in San Antonio is large, with an Army base, several Air Force bases, and a training camp that is used by all the branches of the armed forces in the region. Military people make up a large and visible part of the culture and economy here.
Job Opportunities: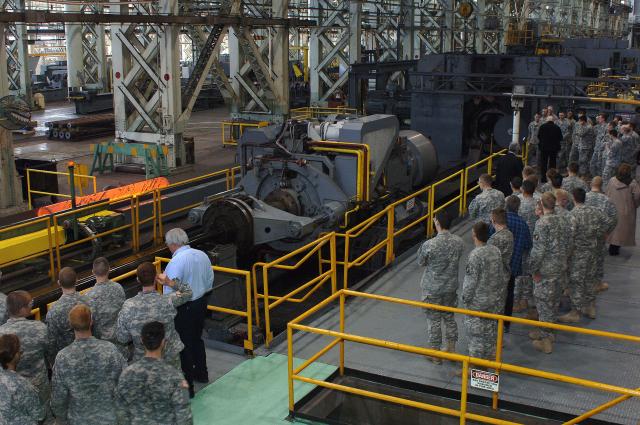 The San Antonio employment outlook is slightly rosier than in other areas of the country. Although the poor economy has hit the region, the number of employers who intend to increase their staff has risen slightly over the past year, while the number who intend to maintain their current staff has remained steady and the number who intend to reduce staff has decreased significantly.
According to the United States Department of Labor website, San Antonio is tied for the 9th lowest unemployment rate in the country, at 7.6%. This compares favorably to the US average, which is currently 9.1%.
The largest employment sectors in San Antonio are services, manufacturing and military. At the time of this writing, job prospects in San Antonio are best in the areas of military, construction, transportation, nondurable goods manufacturing, utilities, retail, information technology, business to business services, professional services, healthcare, education, hospitality, and leisure.
San Antonio is also a great place to start your own business, as the University of Texas at San Antonio's Small Business Development Center provides assistance, including advising, networking and research.
Real Estate Market: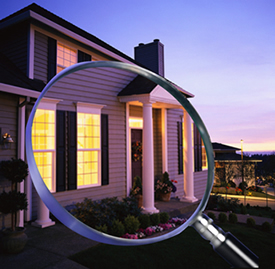 Home prices in San Antonio are currently in a slight decline, with the average sale price of a home being $178,700 in 2009, according to the Real Estate Center of Texas A&M University. However, this is down less than $5,000 from the year before and is better than the national average.
A single family home stays on the market an average of 70 days before selling.
There are approximately 15,000 homes for sale in San Antonio right now, selling at a median price of $149,500. There are only about one hundred units of new construction within the city limits, and the number of foreclosures is around 11,000. When it comes to retail real estate, the vacancy rate has climbed to 14% from a low of 6% in 2007.
The average monthly rent for a 1 bedroom apartment in San Antonio is $632, while for a two bedroom it is $777.
Restaurants and Cuisine: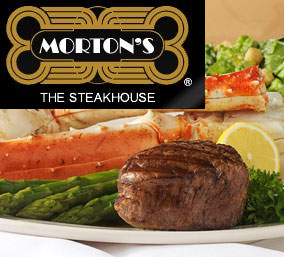 San Antonio has a very lively restaurant scene. Mexican food is a prominent fixture in the cuisine there, which is natural considering the heavy cultural influence of Mexico on the city. Besides authentic Mexican food and Tex-Mex, other styles which are popular in the area are French, Greek, Indian, German, Italian, and pan-Asian. As is fitting in a state where the cattle industry is prominent, San Antonio also has its share of steakhouses, but good vegetarian restaurants can be found there as well.
The Culinary Institute of America has a campus in San Antonio and as a result, local restaurants live up to the level of achievement set in much larger cities like New York, Chicago and Los Angeles. One of the city's most prominent tourist attractions, the Riverwalk, features many top quality restaurants congregated together. In addition, dinner cruises on the river are a popular activity. To arrange these, you contact a Riverwalk restaurant of your choice and charter a boat privately through them; in return, they provide dinner for up to twenty guests.
Some of the most well-recognized restaurants in San Antonio include ORO, The Palm, Presidio, Morton's Steakhouse, Bohanan's and the Chart House.
Tours and Attractions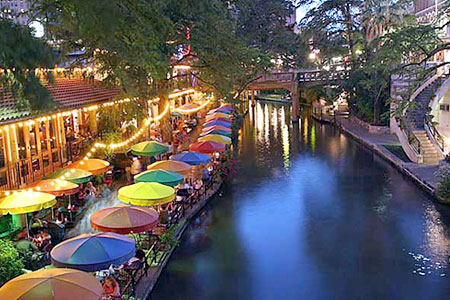 As noted above, one of the most popular tourist attractions in San Antonio is the Riverwalk. This is a complex built on the banks of the San Antonio river that features restaurants, upscale hotels, a theme park (Fiesta Six Flags Texas) and nightclubs. The Riverwalk extends to the San Antonio Museum of Art and the Pearl Brewery complex, which hosts the Pearl Farmers' Market.
Nightclubs at Riverwalk include Howl at the Moon, a lively piano bar, Mad Dogs' British pub, which features entertainment 7 nights a week, a champagne bar, a martini bar, and a 70's/80's themed nostalgia club called Polly Esther's Culture Club. In addition, a dance club known as Club Rive features three rooms with deejays who play different themes, as well as a live venue for alternative rock bands.
San Antonio has a theater district with two major venues, the Majestic Theatre and the Charlene McCombs Empire Theatre. These house touring companies of Broadway productions, rock concerts, classical musical performances, comedians, and other forms of live entertainment.
The San Antonio music scene is varied, but Tejano music, also known as Tex-Mex music, is prominent there. Tejano has roots in classic Mexican-style music, pop, and American country music. San Antonio hosts an annual Tejano music weekend with live performances that culminates in the Tejano Music Awards.
In addition, San Antonio hosts the Spurs, an NBA basketball team with highly loyal fans. The Spurs play at the AT&T Center, a stadium also hosts national rock tours, circuses, and other large-scale live entertainment when basketball games aren't going on.
Sightseeing: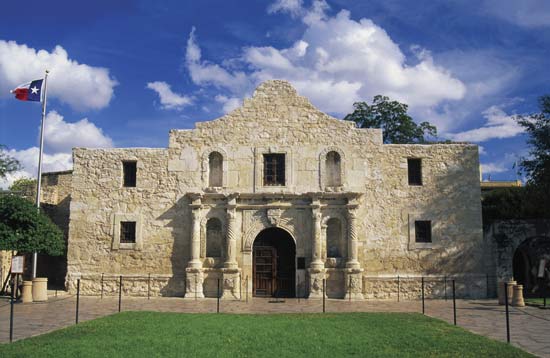 The Alamo is not only the most-visited site in San Antonio, it's the most popular tourist attraction in the state of Texas. More than 2.5 million people a year pass through. The Alamo is open daily with extended hours on weekends during summer. The focus of the Alamo exhibits is the Texas Revolution and other local history. The Alamo site is run by the Daughters of the Texas Revolution, who take the site very seriously as a memorial to the freedom fighters who died there. For this reason, men are asked to remove their hats as a sign of respect and no photography is allowed inside the Alamo.
In addition to the ordinary exhibits, the Alamo hosts an annual rodeo each February. At the beginning of each rodeo longhorns are marched through the city streets of San Antonio to the site. This event is much looked-forward to by local residents.
Besides the Alamo and Riverwalk, San Antonio also has a zoo, a children's museum, several art museums, four other historic missions, and a historic art district known as La Villita.
Shopping/Fashion: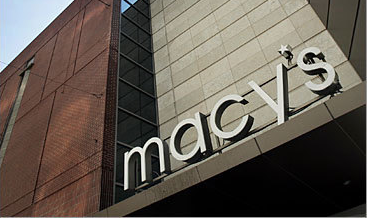 In conjunction with Riverwalk, San Antonio hosts Rivercenter Mall, a picturesque building that actually has the river flowing through the center of it. Macy's is the anchor store here, and there are many other national chains present such as Aeropostale, American Eagle, Chico's, Express, Forever 21, the Gap, Hot Topic, and Victoria's Secret. The mall also contains boutiques with locally sourced items such as Texas Treasures.
North Star Mall is another popular shopping destination, with Macy's, JC Penney, Saks Fifth Avenue, and Dillard's as anchor stores. This mall also features some high end fashion and accessory boutiques such as Armani Exchange, Juicy Couture, Coach and Michael Kors.
South Park Mall and Rolling Oaks Mall are other popular area malls. In addition, there are 3 outlet malls nearby: Round Rock Premium Outlets in Round Rock, and San Marcos Prime Outlets and Tanger Outlets in San Marcos.
San Antonio also has some prominent local boutiques, such as Julian Gold, which provides high end designers like Armani, Escada and Bill Blass, and Kathleen Sommers, which features an eponymous clothing line as well as other well-named brands like Eileen Fisher, Three Dots and Michael Stars.
Hotels and Hospitality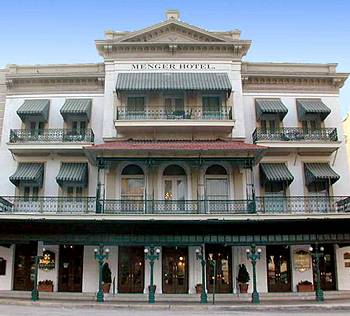 San Antonio has a good mix of large upscale hotels, small, elegant bed-and-breakfasts and inns, and budget motels. Many of the budget motels center around the airport and the military bases, and the average rate per night is well under $100.
The Riverwalk features several upscale hotels of various sizes, including boutique hotels Riverwalk Plaza and Riverwalk Valencia, The Hyatt Regency San Antonio, the Grand Hyatt San Antonio, and the Westin Riverwalk.
There are also numerous historic hotels in downtown San Antonio, including the St. Anthony and the Menger Hotel, which was built in 1859, rumored to be haunted by friendly ghosts, and retains period character.
Bed-and-breakfasts are a very popular lodging option in San Antonio. Some noteworthy sites include the Inn on the Riverwalk, A Beckmann Inn and Carriage House, and Arbor House Suites.
In the hill country outside of San Antonio, there are also some unique themed guest properties. One notable example is the Serengeti Resort, themed like an African safari lodge, where zebras and giraffes graze in a natural habitat. There are also many guest ranches in the area, and several lakeside resorts where outdoor sports are the key attraction.
Education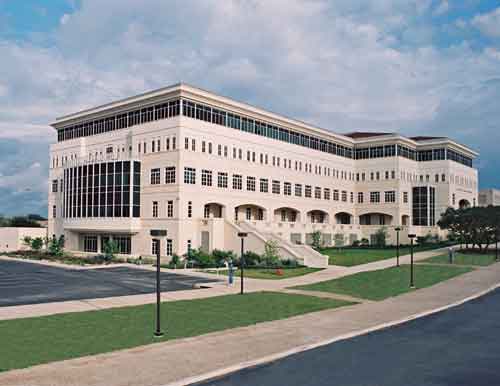 San Antonio's public education system is on a par with those throughout the state of Texas. Out of 11 districts in the city, two were rated exemplary, nine were voted as deserving recognition, four were deemed academically acceptable and one was deemed subpar. The exemplary districts were Randolph and Lackland.
Besides public school, San Antonio has a large network of Catholic schools and Lutheran schools, as well as some traditional private schools, magnet schools, especially in the military realm, and charter schools.
When it comes to higher education, the largest, best-recognized university in the city is the University of Texas at San Antonio, which has a well-known healthcare department. Other 4 year colleges and universities in San Antonio include Baptist University of the Americas, Our Lady of the Lake University, Northeast Lakeview College, Northwest Vista College, Palo Alto College, San Antonio College, Saint Phillip's College, Saint Mary's University, Trinity University, and University of the Incarnate World.
Transportation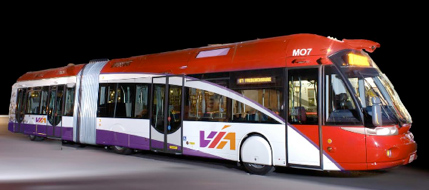 San Antonio has a working public transportation system known as Via Metropolitan Transit. This includes ordinary busses and historic streetcars, the picturesque way to travel around downtown. Streetcars go to such popular tourist destinations as the Alamo, the King William Historic District, Market Square, and Rivercenter.
Visitors can pay a single fare, purchase one day passes, or purchase a monthly pass for frequent commuting. In addition, there is a student pass available that is good for an entire semester.
There are express bus routes for commuters, with park and rides located in convenient spots throughout the city. Private companies such as Star Shuttle also operate shuttle service between San Antonio airport and the city of Austin.
San Antonio International Airport hosts more than 10 airlines. International flights come from Mexico and the Caribbean. San Antonio has nonstop flights to 23 US cities and 3 cities in Mexico (Mexico City, Monterrey and San Luis Potosi).
Volunteer Groups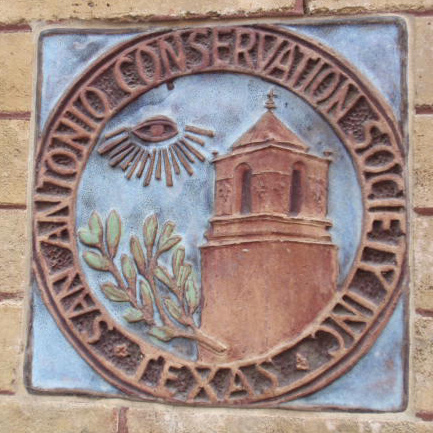 San Antonio has numerous outlets for volunteerism, including soup kitchens, food pantries, and branches of national organizations such as Habitat for Humanity, Meals on Wheels and the American Red Cross.
There are also historic and cultural organizations such as the San Antonio Conversation Society, and the Daughters of the Texas Revolution. In addition, the city sponsors a park cleanup initiative where it organizes groups who wish to help clean, maintain and upgrade city parks.
San Antonio State Hospital has an interesting cemetery restoration program where they restore the graves of those who were abandoned by their families after being sent to the hospital. Such patients were buried unceremoniously and anonymously on land owned by the hospital for many decades. This work involves resetting headstones, researching to find the names of the people who are buried on the grounds, and building a memorial to commemorate those who are buried there.
News Outlets

The major newspaper in San Antonio is the San Antonio Express-News, owned by the Heart Corporation. It has a circulation of approximately 130,000. Other newspapers include the North San Antonio Times, the San Antonio Lightening News, the San Antonio North Central News, the San Antonio Northeast Herald, and the San Antonio Southside Reporter. There are also two or three Spanish language newspapers in the city.
San Antonio also has several news radio stations, including KLUP AM 930, KTSA AM 550, and WOAI AM 1200.
The area has 8 television stations, including two in Spanish, and several lifestyle magazines.
People who are interested in finding San Antonio news on the web should visit www.mysanantonio.com, which is considered San Antonio's home page. Another useful site is www.sacurrent.com, which features news and cultural items with a bit of an edge. Both of these sites feature staff blogs reporting on the continuous stream of entertainment events in San Antonio.
San Antonio Suburbs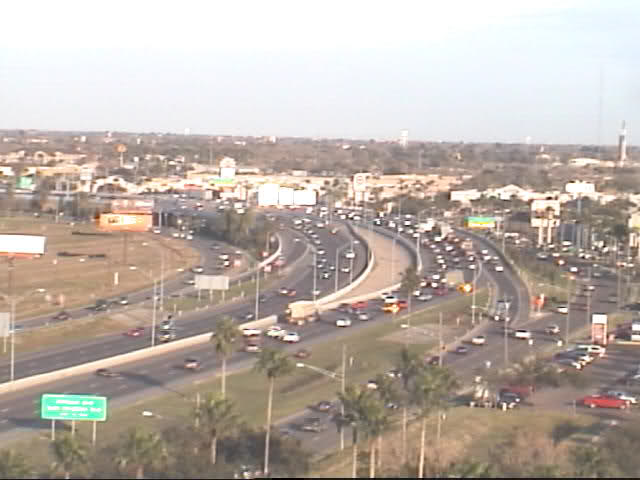 Some suburbs within an easy commute of the city of San Antonio include Comfort, Waring, and Boerne in the northern hill country. These areas offer a country lifestyle within a reasonable commute from the city amenities. However, because of its great assets, this area is growing in popularity and as a result housing prices are higher than in other parts of the region. For more affordable options, consider Lytle, Devine, Saint Hedwig, or Somerset to the south of the city. New Braunfels, a nearby city, is another popular option, as are Universal City, Schertz, Converse, Kirby, Leon Valley, Live Oak, and Windcrest.
Keep in mind that outside of the loop, there are many neighborhoods which, while technically incorporated within San Antonio, have a suburban atmosphere. Some examples of this include the Alamo Heights, Lincoln Heights, and Oak Park neighborhoods.
The counties in the area are Bexar County, Falls County and Guadalupe County.