Introduction
Charlotte, NC, is one of the top 20 largest cities in the USA, and has a population of around 750,000 people. This city is known for subtropical weather, with warm summer days that may have high humidity levels, and winters which are cool and mild, and receives plenty of moisture and rainfall each year. Charlotte has the nickname of The Queen City, and is also called The Hornets Nest. This is the second most important financial city in the USA, with New York, New York being the only city with more financial clout, and is also the largest city in the state of North Carolina.
There are almost two hundred neighborhoods which make up the city of Charlotte and the suburbs, and the entire metropolitan area has around 1,750,000 residents. Roughly fifty percent of the population is Caucasian, with African Americans making up around thirty five percent, and Hispanics making up around eleven percent of the population. There is also a small Asian population in the city as well. The median household income for Charlotte is just under fifty thousand dollars a year. Around eleven percent of the residents who live in this city have an income below the poverty level. There is an exciting nightlife, numerous attractions, beautiful scenery, fine dining, and a rich history that is fascinating, making Charlotte, NC the perfect place to visit or vacation.
Charlotte, North Carolin History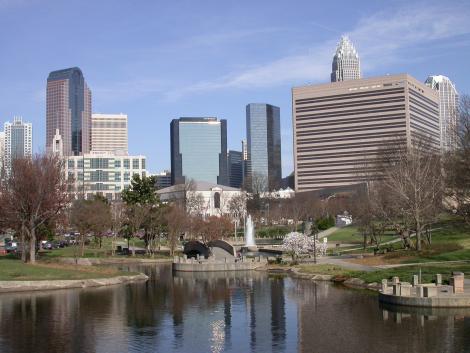 The history of Charlotte dates all the way back to 1755, when a man by the name of Thomas Spratt brought his family and settled in. More settlers followed, and in the year 1768 the area was incorporated as Charlotte Town. The town was named after Queen Charlotte and it was hoped that by naming the town this way, King George III would show favor and this favor would enrich the town. In 1799 a seventeen pound gold nugget was discovered in the area, and this discovery started a gold rush which help Charlotte to grow and prosper. During the American Revolution Charlotte also gained the nickname The Hornets Nest, and this was given to the city by General Cornwallis, who had occupied the city until enraged residents forced him out. Cornwallis is said to have called the city a hornets nest of rebellion.
Agriculture was the main economic activity in Charlotte until the Civil War, and cotton and tobacco fields covered the area. Once the Civil War had ended the city became an ideal place for the railroad industry and textiles. The railroad made this city the largest and fastest growing area in the entire state of North Carolina. Beginning in the early 1970s the financial industry started showing interest in Charlotte because of Hugh McCoil, a financier who started the financial institution which would eventually become Bank of America. Today Charlotte is a large and bustling city, with a diverse population and numerous employment opportunities in many sectors and industries.
Living in Charlotte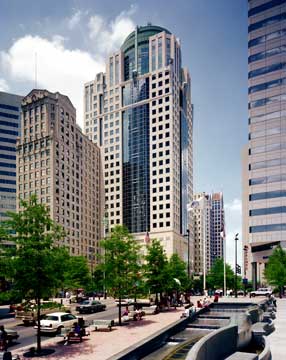 Living in Charlotte, North Carolina can be a terrific experience. A great climate all year round and a thriving city that goes on twenty four hours a day means beautiful weather and plenty to see and do. Downtown Charlotte is skyscrapers and large buildings, while the residential neighborhoods can range from large and exquisite mansions to modern and modest homes, as well as condominiums and apartments of all sizes and appearances. There are many golf courses, museums, cultural attractions, sports arenas and teams, and a community which is business minded. City planning has created a city which is large but easy to navigate when compared to other cities of the same size and population level.
The Charlotte skyline at night is breathtaking, an there is always plenty to do and see no matter what time of the day or night it may be. Restaurants can range from food carts to five star gourmet eateries with owners and chefs that have world renowned names and skills. An exciting nightlife full of dancing and great music can be found in many top bars and clubs around the city, and there are plenty of shopping opportunities as well. The scenery and natural beauty that surrounds Charlotte make this a city that many love to live in.
Job Opportunities In Charlotte, North Carolina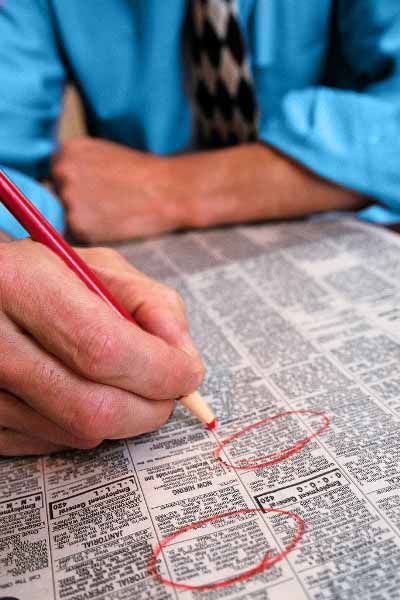 The job market in Charlotte is extremely diverse, and includes a number of different sectors, industries, and job types. Management and professional occupations account for slightly less than thirty five percent of the employment market in the city, while approximately one in four employees in the city work in either an office or sales occupation. Self employment in the city includes consultants, freelancers, and analysts, and the business opportunities for self employment are encouraging in this southern city.
A little less than ten percent of the employed population work for the government, while slightly over seventy five percent work for private companies. The unemployment rate for the city is around nine percent because of the global economic issues, and this is slightly higher than the national average but still lower than many cities with a similar size. Healthcare and the financial sector are both large employers and offer many employment opportunities, but the city also has many restaurants and retail outlets which require employees and frequently hire. There are employment opportunities in Charlotte in every sector and job type, including food service, construction, customer service, IT, and many others.
The Real Estate Market In Charlotte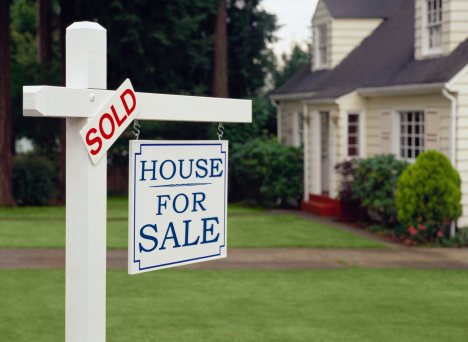 Charlotte offers a very sound real estate market, and right now it is a buyer's market for anyone who can qualify for a loan because of the housing slump which has affected the entire country. Sixty percent of the homes in the city are owned and occupied, while slightly less than forty percent are occupied by renters. There are many different neighborhoods, and the price range for a home in the city can range from very reasonable to astronomical, especially in some of the gated communities and upscale neighborhoods. The uptown neighborhood offers high rise condos, as well as charming historic Victorian homes that are fabulous. This area has plenty of new construction going on, and is a great place to live for anyone who can afford it.
Downtown offers a neighborhood that has a rich and exciting nightlife, with a fun and funky appeal. Homes here may cost less than in many other neighborhoods, but it is a popular place to live for a lot of city residents. Myers Park is known for elaborate mansions and beautiful grounds, and this was one of the original suburbs when the city was smaller. Homes in this area may cost millions of dollars, and are considered very exclusive. The Dilworth neighborhood offers smaller homes and cottages with a cost that can fit in many budgets, and the Elizabeth neighborhood offers an area that has been revitalized and is now alive, with homes that are very affordable.
Restaurants & Food In Charlotte, North Carolina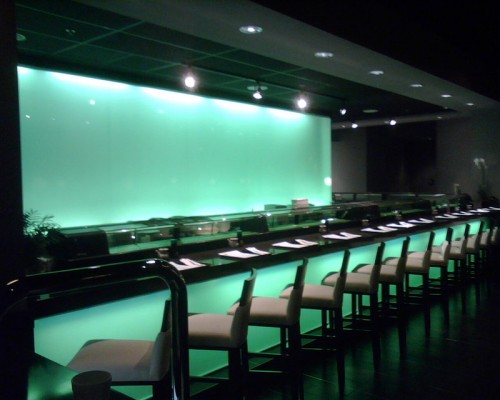 North Carolina has many traditional foods, but one thing that this city offers which can not be found in other areas of the country is barbecue. Unlike most barbecue the variety found here often uses a honey, vinegar, and mustard glaze, instead of the tomato based sauce. Meats are slow smoked, often over an open pit or using a traditional smoker, and the result is unlike any other type found in the world. Many people travel to North Carolina just for the barbecue. Other southern specialties are offered as well, like homemade macaroni and cheese, southern fried chicken, grits, and greens. Many international cuisines are offered by the many restaurants in the city as well.
For fine dining one of the most popular restaurants is McNinch House, in the uptown neighborhood. This exclusive restaurant is actually located in the beautiful and elegant home of the chef and owner, Ellen Davis, and dining is available by reservations only. A seven, five, or four course meal is served in an exquisite dining room, and this eatery has gained recognition from many food experts and associations. If something a little less expensive is desired, and fun is the goal, then The Melting Pot in Midtown or at the University can be an excellent choice. This restaurant features fondue, lots of it, and in both savory and sweet varieties. There are also many barbecue restaurants, Like Sonny's BBQ and Bubba's BBQ, as well as places featuring Asian, Mexican, and other ethnic specialties.
Charlotte Tours and Attractions
When it comes to tours and attractions, Charlotte is a city that definitely knows how to amuse and entertain. The Charlotte Museum of History offers exhibits that fit everyone, and the Bechtler Museum of Modern Art is a must see for any art enthusiast. The Light Factory Contemporary Museum of Photography and Film is one of only four museums across the country which cove this subject. NASCAR also has a museum here, The NASCAR Hall of Fame, because Charlotte is full of racing enthusiasts. Well known rock musician Joseph Poole comes from this city, and a number of national and major league sports teams call this city home as well.
Tours of Charlotte can be taken by foot, by bike, by bus, or using other methods. These tours can cover certain historic areas of the city, popular shopping or dining spots, and even just take in all the beauty that the city offers. There are also nature tours which explore the surrounding areas of the city. Carowinds is a large amusement park that is located right in Charlotte, and this attraction has rides and other activities for children and adults of all ages. The Daniel Stowe Botanical Garden can help you relax while you enjoy the fragrant beauty of exotic orchids and other exquisite blooms. The Belk Theater offers the chance to enjoy Broadway musicals, and the exciting nightlife attracts the party crowd.
Charlotte Sightseeing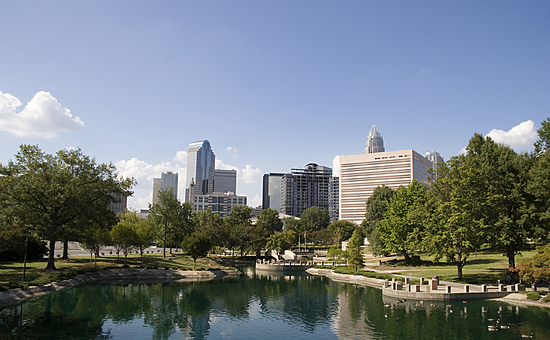 Sightseeing in Charlotte can be a very exciting experience, and this city has a lot to offer for those who like to take in all of the sights. The city features many historic homes and mansions, many dating back to the Civil War or even before this period. A horse drawn carriage ride through the historic Fourth Ward district will allow all of the scenic beauty and many attractions that this area offers to be seen and enjoyed. The architecture found is almost unbelievable, and the perfect blending of old homes with newer elements and stores in this area is unusual. The Hezekiah Alexander Homesite was created in 1774, and is the oldest residential dwelling out of any structures in the USA.
One of the most popular sightseeing activities is touring the historic plantations that North Caolina ws famous for before the Civil War. The Rosedale Plantation is one of these plantations, and tours of the restored home and the property can be taken but reservations are required. There is also a memorial to James Polk, the eleventh president of the USA, who was born here. The mountains in the distance also add to the enjoyment of sightseeing in Charlotte, and the scenic views can be breathtaking.
Shopping & Fashion In Charlotte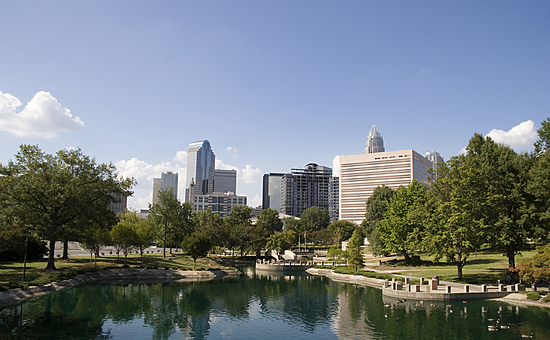 Charlotte is a very popular location for shopping, with many malls, stores, boutiques, and other shopping opportunities. One of the most popular shopping locations in the city is the Eastland Mall. There are more than one hundred stores to choose from and a very large variety of goods, from clothing and accessories to household items and other merchandise. Another mall is Ballantyne Commons East, but the prices here are frequently higher, and it is considered an upscale shopping location for those better off financially. Southpark Mall is an upscale shopping venue, with exclusive stores and higher prices. For those looking for inexpensive options there are many chain discount stores and major retailers, as well as other options. Fashion in the city can range from black tie to a very casual shorts and a tee shirt with sneakers. Many of the stores in the area carry the latest fashions, and some of the upscale stores and boutiques offer designer names and exquisite fashions.
Hotels and Hospitality In Charlotte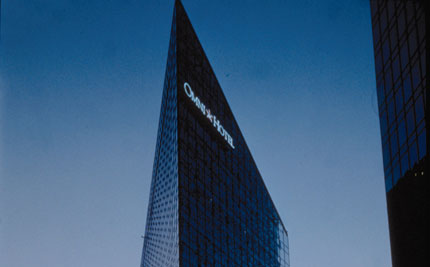 The hotels and inns in this city include names recognized around the world, and the hospitality offered can not be beat. Charlotte offers a five star selection for visitors in the Ritz Carleton, Charlotte, as well as many other choices that may range from one star up to four stars, in both service and accommodation as well as price. The Ballantyne Resort Hotel offers exceptional rooms and amenities, and this is true of the Hilton Charlotte Center City, the Marriott Charlotte Southpark, and the Westin Charlotte. All of these hotels feature a four star rating, and can be too pricey for those with limited budgets.
There are many hotels and inns which are very nice, and have a lower cost than some of the more exclusive choices. Renaissance Charlotte Suites offers nice rooms and excellent service for far less than a four or five star hotel, and so does the Blake Hotel. For those who have a very small budget Charlotte also offers very economical choices. Chain hotels such as Super 8, Holiday Inn, Rodeway Inn, Days Inn, and others. These options offer a standard room which is comfortable for a very reasonable price.
The Education System In Charlotte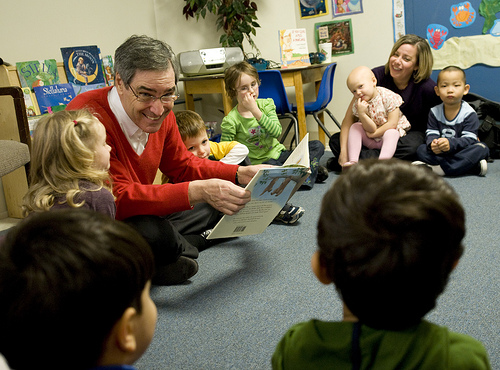 Charlotte has exceptional school systems, and this include both primary and secondary schools. Close to eighty five percent of the population In this city has graduated from high school, and a high percentage have college degrees. In addition to the public school system there are many private schools, as well a number of vocational schools and colleges. There are also a number of charter schools, as well as schools which include only those students with special needs. The student teacher ratio in the primary schools is roughly fourteen to one, and Charlotte area schools have been recognized for outstanding achievements in academics and in providing a quality education to all students.
The University of North Carolina-Charlotte campus is an internationally recognized state university, offering a wide range of classes and degrees. There is also Piedmont Community College, Queens University of Charlotte, Pfeiffer University, Johnson C Smith University, and many other colleges and universities to choose from in the Charlotte area. Education is considered crucial to the city, especially because of the financial sector and increased need for continuing education in many occupations. The city has put a lot of effort and money into making the education system here one of the best in the country for all races and economic groups.
Transportation In And Around Charlotte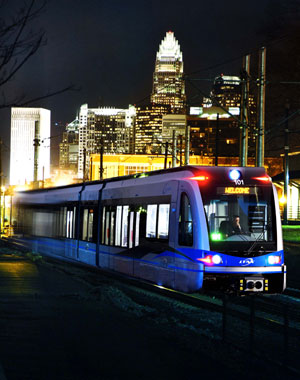 Transportation in and around Charlotte is simple and convenient. The city is very well planned in a grid, and there are many different public and private transportation options. Charlotte Douglas International Airport is the only airport, with eight airlines. Once in the city there are car rental agencies available, both at the airport and around the city. Taxis are also widely available when the need to travel by vehicle arises. Walking is a favorite way to get to nearby locations, and many residents prefer bicycles to enjoy the beautiful weather on nice days if they are not going too far. There are some bike rental businesses where bikes may be rented by the hour, day, or longer.
The public transportation methods offered by Charlotte and very diverse and wide ranging. There is a light rail rapid transit system, which offers  speed, an inexpensive method of transportation to certain areas of the city, and comfort. The Charlotte Trolley system is unusual, and this route follows a few miles in the financial district. The trolley can be a great way to get to the desired location if it is close by.  The Charlotte Area Transit System Bus Service runs all over the city, and only stops running from two in the morning until five in the morning. There are bus stops conveniently located all over Charlotte, and this can be a very cheap method of transportation.
Charlotte Volunteer Groups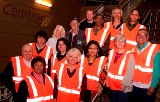 There are a number of volunteer groups in Charlotte that make a big difference in the community. There is Big Brothers Big Sisters of Charlotte, which offers a mentor for kids from troubled or single parent homes who may need more attention. The Charlotte Rescue Mission is another volunteer group which runs a homeless shelter and programs to feed and clothe people in need. The Second Harvest Food Bank offers a food pantry for those in need of food, and Hospitality House is another volunteer group/organization that gives to the community. These are just some of the many volunteer groups and opportunities that the city features.


News In The City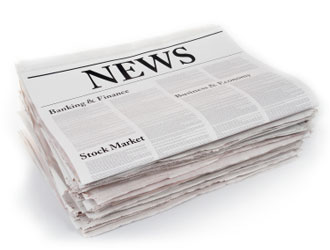 For most Charlotte residents the newspaper of choice is the Charlotte Observer, the largest and most dominant source of news for the city. Other local papers include Creative Loafing, a newspaper based in Atlanta but popular in Charlotte, and the Charlotte Post, which is very popular with the African American population. Q-Notes is a fairly recent addition to the newspaper lineup in Charlotte, and this paper is located in the city and serves the lesbian, gay, bisexual, and transgender population of both North and South Carolina since it was first created in 1986. The Mecklenburg Times and the Charlotte Business Journal carry business news and reports, and there are a number of magazines which serve the city as well. These include Uptown Magazine and Charlotte Magazine.
Charlotte is also home to many television and radio stations, most of which carry the news and current events, both locally and internationally. CBS, ABC, NBC, Fox, and many other quickly recognized names are affiliated with local Charlotte television stations, of which there are more than ten. There are numerous radio station, and every type of music can be found on the air. Many different blogs and websites also feature news which is aimed at local residents and covers every type possible.
Small Towns Near Charlotte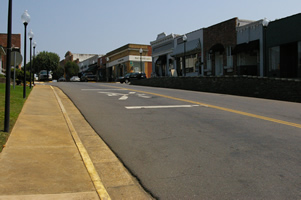 For many Charlotte is the perfect place to work, but a home in a small town away from the big city is also desired. There are a number of towns close enough to Charlotte to commute to the city, yet small enough to have all of the advantages of a close knit and friendly community. Mathews is one town that offers these benefits, and it is located twenty to thirty minutes from the city so it is close enough to be very convenient. Davidson is another small town near the city, and this community offers a small community charm without sacrificing any comfort or the better career opportunities of the big city. Cornelius is also located a short distance from Charlotte, and is small enough to be friendly and charming. There are many other small towns surrounding Charlotte, and in the nearby areas. Some can even include waterfront communities and lake views.